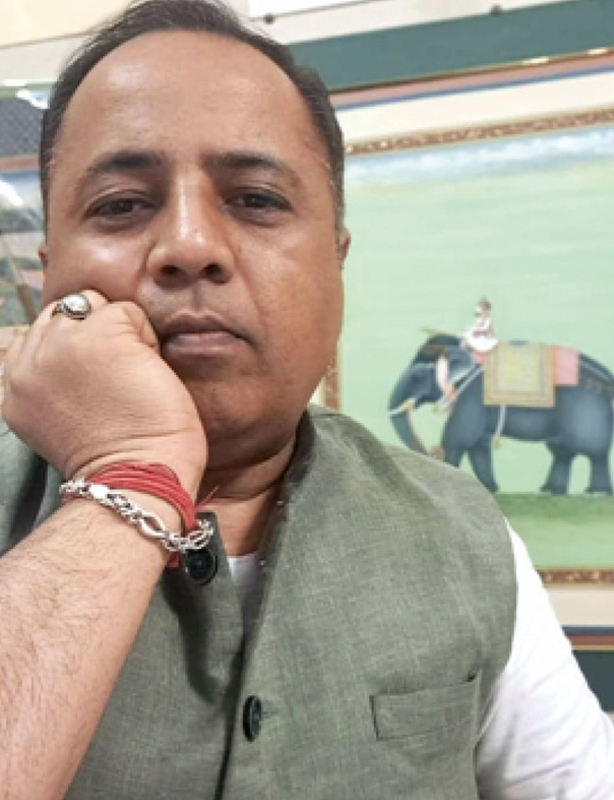 A Traditional Artist of Bikaner School of Miniatures
Shiv Swami is descended from a family of Traditional Bikaner Painters. As a child he began training with his father Dev Kishan Swami and grandfather F.R. Swami Later he studied under with Mahaveer Swami and Raju Swami. Shiv Swami revived the best aspects of the sophisticated and refined Bikaner School of painting with an originality and brilliance unique among contemporary miniaturists. Shiv Swami stands out of thousands of traditional painters not only because of his great skills in drawing and painting. But also because he has an ability to recognize the difference between the truly fine and mundane although he possesses the skill to copy any other painting perfectly he prefers to explore new subjects, new contexts and new forms of expressions. For instance, he has created a series of paintings based on the daily life of Indian women, a theme rarely explored by earlier miniature painters. Shiv working style is strongly influenced by his studies of Mughal and Rajasthani Miniatures.
Mineral or "Stone" Pigments Colours Like
The colours used in the miniature painting were made from minerals, vegetables, precious stones, indigo, conch shells, pure gold and silver. The preparing and mixing of colours was an elaborate process and it took weeks, sometimes months, to get the desired results.
Bikaner Miniature Arts
SHIV SWAMI
(Traditional & Contemporary Miniature Artist)
On the Municipal Road, Near Kirti Stambh Circle, Bikaner (Raj.)
shivswami@bikanerminiaturearts.com